The Regional Comprehensive Economic Partnership (RCEP) agreement entered into force for the Philippines on June 2, meaning the agreement is now active for all 15 members.
A number of projects were signed between RCEP members during the 2023 High Level Forum on RCEP Economic and Trade Cooperation on June 29, 2023. [Photo courtesy of China Chamber of International Commerce]
The world's largest free trade agreement saw further progress during the 2023 RCEP High-Level Forum on Economic and Trade Cooperation held in Qingdao, East China's Shandong Province. During the forum, several projects were signed between the companies of the member countries aimed at wide and deep cooperation in various fields such as construction, air charter service, cultural tourism, health and talent training.
Ren Hongbin, president of the China Council for the Promotion of International Trade and the China Chamber of International Commerce, highlighted the increasing trade among RCEP members. He observed that the Asia-Pacific region has become an important area for global trade and investment.
In 2022, trade between China and other RCEP members will grow 7.5% year-on-year to 12.95 trillion yuan ($1.79 trillion), while their investment in China will rise 23.1% in real terms to $23.53 billion.
Cambodian Ambassador to China Kek Kymely Chisoda emphasized that in the context of global economic uncertainty, the RCEP agreement has provided tangible benefits to regional economic and trade cooperation through comprehensive measures including reducing trade costs, reducing or eliminating non-tariff barriers. Promoting integration of regional industrial and supply chains.
He said trade between China and Cambodia has grown 17.5% annually to about $16 billion, and there has been steady progress in bilateral cooperation in sectors such as agriculture, textiles and infrastructure.
Philippine Department of Trade and Industry Assistant Secretary Glenn G. Benaranda noted that the Philippines sees RCEP as a catalyst for economic growth. This not only provides improved market access for their core products, but also provides a platform to attract more investment in essential sectors such as manufacturing, financial services, sports development and e-commerce. He said RCEP can help the country develop a much stronger and more beneficial partnership with China based on the Belt and Road Initiative.
Ou Boqian, Secretary-General of the Trilateral Cooperation Secretariat, emphasized that the RCEP Agreement is the first free trade agreement linking China, Japan and South Korea, and makes significant contributions to the development of these three countries. He proposed that the three parties and other RCEP members should embrace diversity, improve labor division and expand cooperation in green economy, blue economy, digital economy and other sectors.
ASEAN Secretary-General Kaw Kim Hearn said the benefits of the RCEP agreement extended beyond tariff liberalization as it reduced customs procedures, standardized rules of origin and reduced transaction costs among members. He also sought feedback from traders on using the RCEP agreement to address underground challenges.
Zhou Yi, who oversees customs and global trade at Deloitte China, noted that RCEP has spurred the consolidation of supply chains and the consolidation of resources in the region. Nevertheless, companies still need to familiarize themselves with specific local rules and institutions.
During the forum, the Qingdao Initiative of China's business community on promoting the construction of the RCEP mechanism and sharing the results of regional cooperation was launched, which aims to foster broad, deep and high-level cooperation among member countries.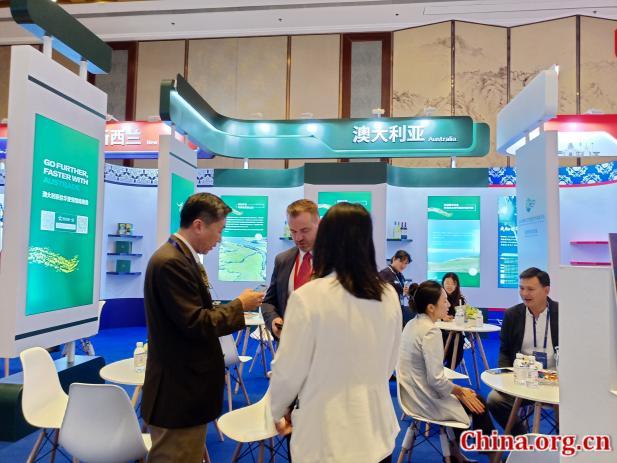 Representatives from China and Australia discuss products at an investment and trade fair on June 29, 2023. [Photo by Xu Xiaoxuan/China.org.cn]
As a related forum event, an investment and trade fair was held for all 15 members to explore further business cooperation opportunities.
. "Gracz. Namiętny pionier w mediach społecznościowych. Wielokrotnie nagradzany miłośnik muzyki. Rozrabiacz".