Receiving Ambassador Denny Abdi, Hue highly praised Indonesia's role regionally and globally as a member of the G20, saying Vietnam is Indonesia's only strategic partner in Southeast Asia.
He recalled that during the state visit of the President of Vietnam to Indonesia in 2022, the two countries had completed negotiations on the delineation of an Exclusive Economic Zone (EEZ), and expressed hope that the two legislatures would soon consider and approve this important document.
For his part, Abdi said Indonesia wants to cooperate closely with Vietnam not only for mutual benefit, but also for the common interests of the region and the world. He assessed the effectiveness of trade cooperation between the two countries and outlined the need to better promote development in the region especially in the current period.
The Indonesian ambassador noted that the conclusion of the EEZ negotiations between Vietnam and Indonesia is the most concrete evidence showing that countries can resolve disputes through peaceful means based on international law, including the 1982 United Nations Convention on the Law of the Sea (UNCLOS). Completion of procedures related to this agreement will contribute to expanding cooperation between the two countries in the fields of seafood processing, aquaculture and fisheries cooperation and ensuring food security in the region, he said.
He highlighted energy transition as a challenge for Indonesia and Vietnam, and said both countries look forward to receiving assistance to implement the Just Energy Transition Partnership (JETP) agreement.
As both countries have a young demographic structure, which is considered a competitive advantage, the Indonesian ambassador hoped that Vietnam's top legislator would be vocal in promoting cooperation in research and education between the two countries.
Agreeing with the Ambassador's comments, President Hue noted that both Vietnam and Indonesia are tackling global challenges, including digital transformation and energy transition. Given the current environment, each country is focusing on restructuring trade and investment in a more balanced way, while improving cooperation and maintaining quality supply chains in the marine and fisheries sector, as well as fisheries and agricultural products.
On this occasion, Hue affirmed that Vietnam will do its best to support Indonesia in successfully organizing the upcoming ASEAN Inter-Parliamentary Meeting (AIPA). He also hoped that Indonesia would support the Vietnam National Assembly to successfully hold the Ninth Global Conference of Young Parliamentarians.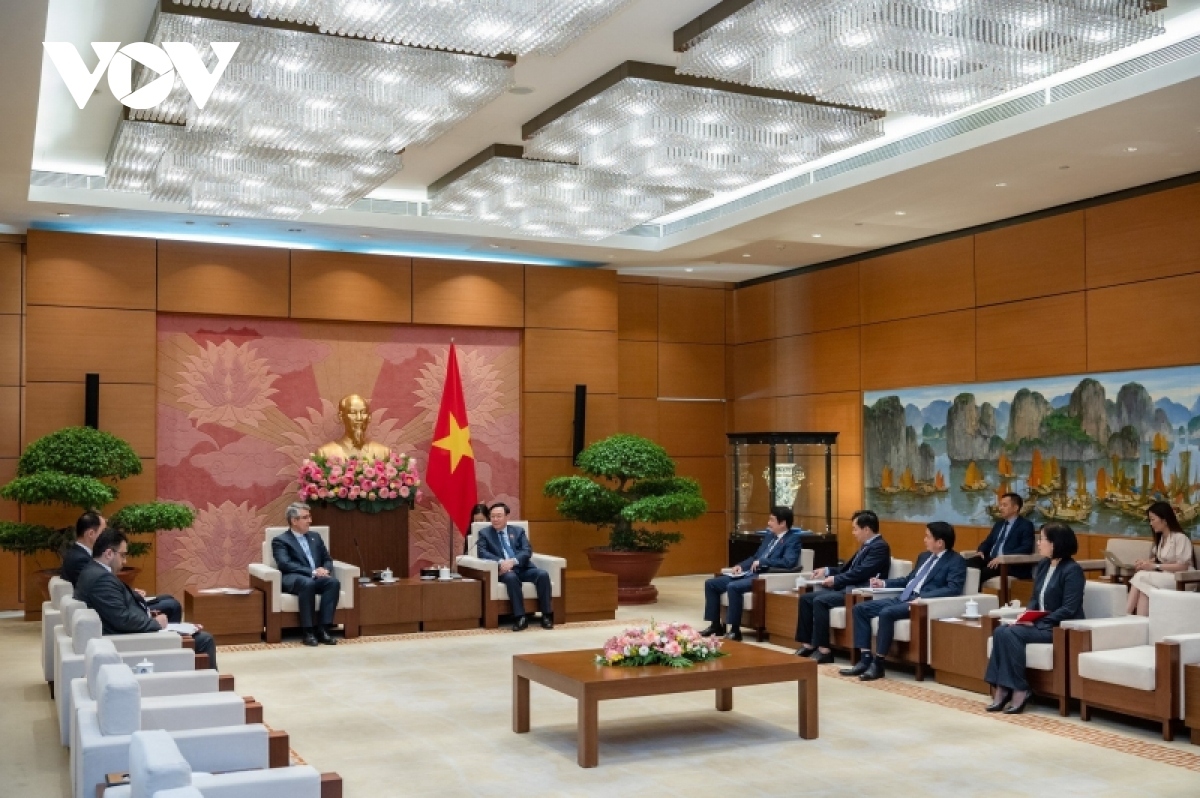 In another meeting with Indonesian Ambassador Ali Akbar Nazari, Hue spoke highly of the positive development of cooperative relations between Vietnam and Iran and affirmed that Vietnam wants to increase multilateral cooperation with Iran.
For his part, Nazari affirmed that Vietnam is a reliable friend of Iran and that Iran attaches importance to its relations with Vietnam.
This year, he said, to commemorate 50 years of diplomacy between Vietnam and Iran, many activities will be held between the two countries, including high-level visit exchanges, cultural week, film screenings, sports games and friendly exchanges.
According to the Iranian ambassador, Vietnam and Iran have many things in common. Vietnam has a high growth rate, while Iran is an energy producer and exporter, with great potential for cooperation in the fields of industry, aviation and agriculture. Both countries can jointly use this potential to benefit their people, he said.
Stressing the importance of parliamentary diplomacy, the Ambassador welcomed the efforts of the two legislatures to strengthen mutual coordination and support in multilateral fora such as the Inter-Parliamentary Union (IPU).
Meanwhile, in the background of 50 years of relationship, Vietnam wants to develop comprehensive relations with Iran, and the two countries can share experience in national construction and development, National Assembly Chairman Hue said.
He invited the Islamic Consultative Assembly (Parliament of Iran) to send delegates to the Ninth Global Conference of Young Parliamentarians to be held in Hanoi this September.
The Iranian ambassador assured his guest that the conference will be attended by young Iranian parliamentarians.
. "Gracz. Namiętny pionier w mediach społecznościowych. Wielokrotnie nagradzany miłośnik muzyki. Rozrabiacz".